Wire & Cable inventory
A variety of cuts, sizes and applications
Serving the residential, commercial and industrial markets, Gescan is the one-stop solution for all your wire and cable needs. From custom cable-cutting to project management, we tailor our services to fit your project specifications. Our wire cutting bays are always fully stocked with everything from ACWU and TECK90 to RW90 and Cabtire made by industry-leading manufacturers and ready to be cut to your specifications, on the spot. Shop our selection of wire and cable today online or in-store and get just the right amount. No more. No less.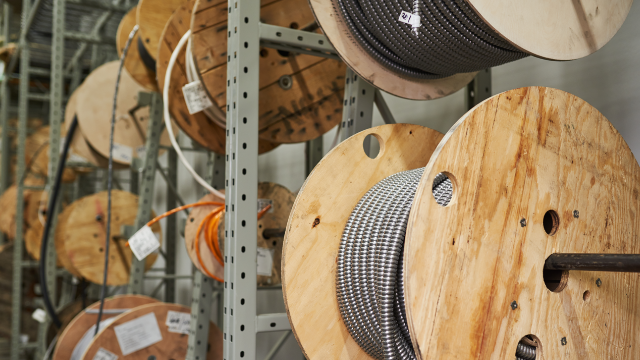 Cut-to-length services
Only what you need, when you need it
Why pay for product you don't need or decrease productivity by having to measure and cut your wire? We have local inventory available across our branch network and cut-by-the-meter services. There are no cutting fees or required minimum lengths, and we guarantee a quick turnaround. Our cutting bays offer instant service or add custom cuts online via our webshop or mobile app. Simply select the item you want in the length you need, including multiple separate cuts of the same product.
Wire & Cable product categories

Wire, cable, conduit & Information Communications Technology
Industry-leading experts
Our Wire, Cable, and Conduit Specialists help contractors better plan, prepare and execute their residential, commercial and industrial projects. Specialists provide technical information and advice, sources hard-to-find wire and cable products, help with substitutions or alternates, and assist with pricing and procurement on all sizes of jobs and requirements. They also works in coordination with our Information Communications Technology team on Low Voltage Cable and our projects department to assist in designing the best possible solution for the customer.